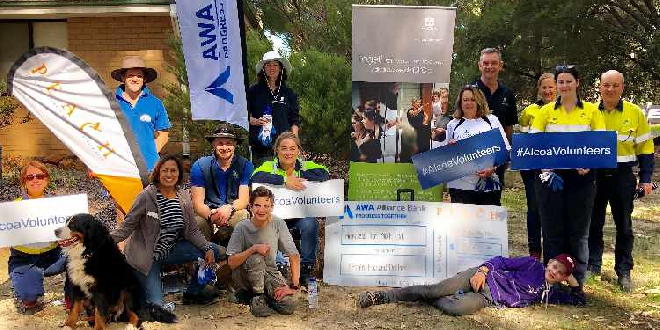 PIC: Supplied
A group of employee volunteers from Alcoa's Pinjarra Alumina Refinery have helped support vulnerable youth by giving a winter maintenance check and general up-keep to their 'safe-haven'.
The volunteers from the company's 'Alcoans Coming Together in Our Neighbourhoods' Program headed to Homestead For Youth, a local non-for-profit support service for at-risk youth within the community.

"This is a place where our young people need to feel safe, happy and comfortable in their surroundings, so the volunteering efforts to maintain the farm grounds and facilities really help," Homestead For Youth co-founder and registered psychologist Carla Fadelli said.

Alcoa's ACTION Program encourages employees to volunteer in their local communities, with $3000 donated to a chosen charity as recognition of those volunteering efforts.
This year, the project is set to produce more than 2,000 volunteer hours and $200,000 into communities near Alcoa sites around Australia.
Over 80 employees from the Pinjarra Alumina Refinery have agreed to take part this year.
The volunteering activities range from assisting with community events and fundraising for not-for-profit services, to assisting at local schools, sporting clubs and charities.

Alcoa of Australia Chairman and Managing Director Michael Parker thanked the employees involved in the volunteering activities saying it was proof that together we could make a big difference.

"Alcoa is proud to be an engaged and supportive partner in our neighbouring communities and we encourage and support our employees to also be active community members," Mr Parker said.