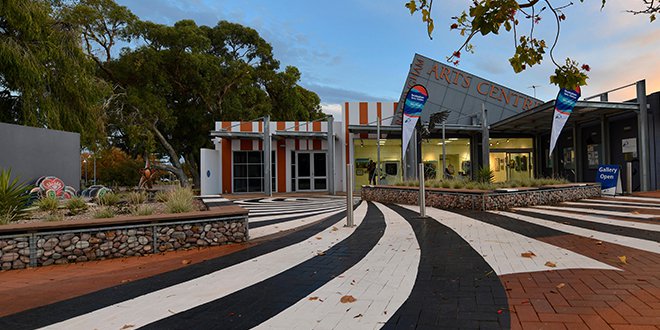 A great opportunity exists for lovers of art and culture to volunteer at the Rockingham Arts Centre. Picture: City of Rockingham
If you are passionate about art and want to make a difference in your community then an opportunity awaits at the Rockingham Arts Centre.
The Rockingham Arts Centre is looking for people interested in the arts to form a dedicated group of volunteers who will assist with the manning and running of City of Rockingham exhibitions that are hosted at the centre.
Interested volunteers will be added to a database and will be asked for assistance when required. Those interested in becoming a volunteer have the option to attend two-dimensional artwork hanging training with respected art company Art on the Move, at no expense to the volunteer.
City of Rockingham Mayor Barry Sammels encouraged residents who were passionate about art to get involved with the Rockingham Arts Centre.
"The Rockingham Arts Centre is the premiere venue for art in the City and a fantastic opportunity now exists for volunteers looking to get involved at the centre," Mayor Sammels said.
"The City is encouraging anyone who is interested in volunteering to contact the Rockingham Arts Centre, regardless of whether they have extensive volunteering experience or are seeking to volunteer for the first time."
The Rockingham Arts Centre consists of a multi-purpose room, studio/office space and an exhibition space.
If you are interested in volunteering, please call the Rockingham Arts Centre on 9527 0734 between 10am–3pm, Monday to Friday or email customer@rockingham.wa.gov.au.