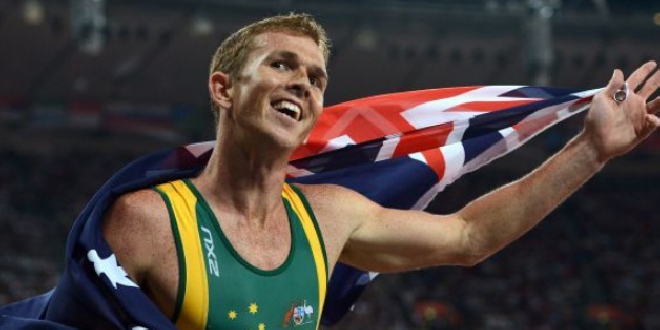 Runner Brad Scott at the 2012 London Olympics. PIC: abc.net.au
The 2018 Commonwealth Games will feel another step closer when the Champions 2 Country tour arrives in the South-West where six Western Australian athletes will share their inspiring stories.
Over the next three days, six Western Australian Olympic, Paralympic and Commonwealth Games athletes will visit Collie, Bridgetown, Australind, Bunbury and Busselton.
They will stop in at 13 schools and numerous sporting clubs to take part in community activities.
Champions 2 Country presents an opportunity for athletes to share their sporting experiences and provide inspiration on issues including healthy lifestyles, leadership, teamwork, respect, and motivation to achieve goals.

Athletes on the South-West tour are West Coast Fever netballer Ingrid Colyer, track and field Paralympian Brad Scott, Olympic and Commonwealth Games gymnast Olivia Vivian, Olympic and Commonwealth Games hockey players Jayde Taylor and Trent Mitton and Australia's first Olympic medal-winning (gold) sailor Belinda Stowell OAM.
Sport and Recreation Minister Mick Murray said Champions 2 Country is an important initiative because these athletes are not only positive role models for their own sport but they are great advocates for being active, no matter your ability or age.

"We hope this tour inspires young regional people to overcome adversity and build resilience, to dream and make their dreams come true and understand the work it takes to get there.

"The tour also highlights the importance of supporting elite athletes because of their ability to inspire and empower others to be active, participate and get involved in the community.

"I'm also thrilled that Ingrid Colyer, Jayde Taylor and Brad Scott hail from the region, and coming back to talk about their journey makes this tour extra special."
Champions 2 Country has been running since 2011.