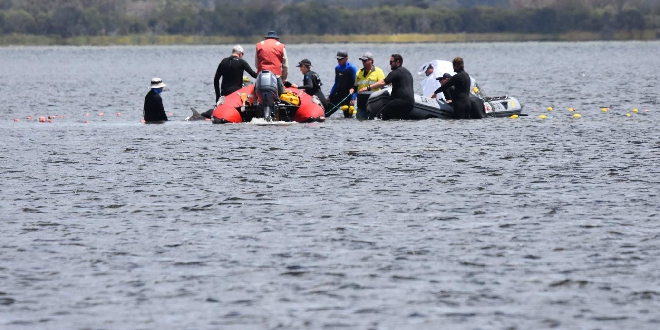 PIC: Estuary Guardians Mandurah/Facebook
A dolphin calf has been freed after becoming entangled in fishing line in the Peel Inlet.
The calf named Jemo was spotted earlier this week with fishing line caught around its dorsal fin.
The operation took place over two days and involved a crew of more than 20 people from the Department of Biodiversity, Conservation and Attractions, vets from Perth Zoo and local volunteers.
"Disentangling a wild animal is certainly no mean feat and today's success wouldn't be possible without such great team work," Parks and Wildlife Service posted on their Facebook page.
"While the dolphin has sustained injuries as result of the fishing line entanglement, the team hold high hopes for calf's future."
Locals are reminded to dispose of their fishing line and rubbish properly.