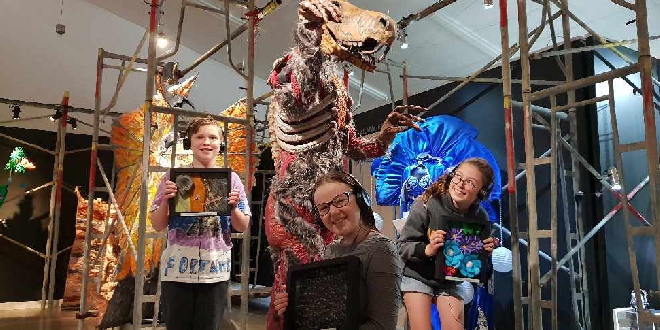 Benn Buckland, Xanthe Turner and Addison Zanik experience the sensory tour with Morte. PIC: Supplied
Contemporary Art Spaces Mandurah (CASM) is encouraging people to explore wearable art garments in a different way.
CASM is currently exhibiting 24 items from the 2019 Wearable Art Mandurah Showcase, and invites the community to experience the pieces up close for themselves.
The garments, including 13 award-winning entries, are suspended from scaffolding against blackened walls.
The exhibition also offers a 'sensory tour' for those who are visually impaired.
Five garments are paired with audio description headsets and tactile boards, giving people the opportunity to feel the materials used by the artist.
The audio descriptions feature an introduction and artist statement as well as observations of the garments by local community members.
This component is also available to those without vision impairments, allowing for a new perspective on art.
The Wearable Art Mandurah Exhibition will be on show until Sunday September 22.
There will be an artists' talk on the final day of the exhibition for people to meet the designers and learn the stories behind the garments.
As well as traditional fabrics, artists have used re-purposed materials ranging from grey plastic bags, used dress patterns, reticulation pipe, old x-rays and discarded sanity masks to create artworks to be worn on the body.
Details:
What: Wearable Art Mandurah Exhibition
When: Until September 22, 2019. Wednesday to Sunday, 10am until 4pm.
Where: Contemporary Art Spaces Mandurah