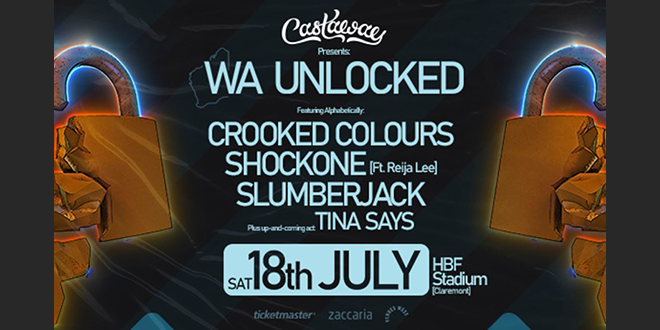 PIC: HBF Stadium.
Australia's first post COVID-19 live music event, WA Unlocked, will be held on July 18, the day restrictions are removed.
Live music in Western Australia is officially back with the announcement that up to 4000 fans will be able to support popular local bands on Saturday July 18, the day WA celebrates the lifting of all COVID-19 crowd restrictions.
WA Unlocked, which will be held at HBF Stadium, will feature popular local acts Crooked Colours, ShockOne, Slumberjack, and Tina Says.
This will be the first major live music event to be held in WA following the COVID-19 pandemic, which is a further testament to WA's outstanding management of the health crisis.
This comes after the Premier's Phase 4 announcement to further ease restrictions around capacity within venues commencing on June 27. It is anticipated that Western Australia will move to Phase 5, which will see all restrictions lifted, on July 18.
Essentially this means Optus Stadium could host a crowd of up to 60,000 people, RAC Arena could welcome 14,000 fans, and HBF Park 22,000.
This is fantastic news for the WA music and event industry, as well as the thousands of music fans who will get the chance to see their favourite local bands for the first time since March.
With major restrictions inhibiting public mass gatherings across the entertainment and sporting event space and forcing the closure of Perth's world class venues, the live entertainment industry has been hit hard. The lifting of restrictions will provide some hope.
The resumption of live events means thousands of Western Australians are set to be gainfully employed across several industries, including events, catering, music, production, transport, retail and hospitality.
Culture and the Arts Minister David Templeman says:
"The future is looking up for WA, our economy and employment."
"By announcing that this concert will take place on the day the restrictions are expected to be lifted, we can officially celebrate our new found freedom following the COVID-19 pandemic."
"Western Australians should be very proud of how we have all handled this health crisis and that we have gotten to a point where we can see the light at the end of the tunnel."
"This is also a time to reflect on what we have all achieved through this incredibly challenging time."
"This concert will both celebrate the lifting of the restrictions and recognise the importance of supporting local music and the event industry."
"Whilst technology is great - nothing beats a live event!"
"Hosting this concert and many more in the future means thousands are expected to get back to their jobs and thousands of fans set to be entertained."
"WA has always prided itself on its strong and vibrant arts industry. The last few months have been extremely tough for all those involved and related to the industry. May this event be the first of many as the live music and entertainment industry begins to recover."
For tickets and more information see the website: https://www.hbfstadium.com.au/upcoming-events/wa-unlocked/