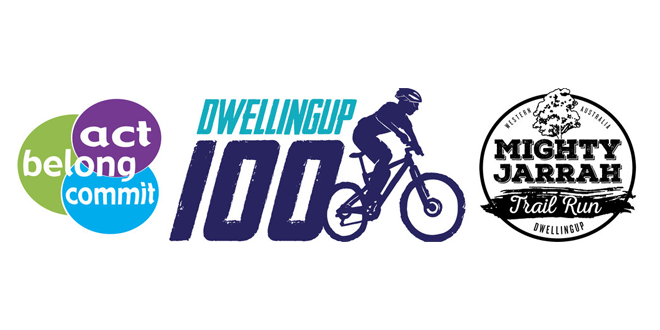 PIC: www.dwellingup100.com.au
The Act-Belong-Commit Dwellingup Mountain Bike Classic & Mighty Jarrah Trail Run returns Saturday 19th September 2020.
When COVID-19 struck, one of the first casualties was mass participation events. Individuals and communities struggled without these events that provide fitness goals, fundraising, and opportunities to socialise and give back to the community. But thanks to the West Australian spirit and our
adherence to government restrictions, events are now back.
Leading the charge is the 12th annual Act-Belong-Commit Dwellingup Mountain Bike Classic on Saturday 19th September. More than 1000 mountain bikers will descend on Dwellingup to enjoy the world-class tracks and trails surrounding the Peel community. Since 2009 the event has been attracting a growing audience of fans, from Perth, regional WA and interstate. This year is anticipated to be one of the biggest, with people itching to get back to some normality and to take advantage of their renewed love of cycling!
'Bike and servicing sales have achieved levels never before experienced during the isolation period and we're looking forward to introducing many new riders to the joy of mountain bike events', said The Event Team's David Budge. 'At the same time, bike paths and mountain bike trails around Perth are experiencing use at levels never seen before.'
This is one of the reasons the event carries the Act-Belong-Commit message through funding support from Healthway.
Health Minister Roger Cook MLA said Healthway's partnership with The Events Team WA supports the Dwellingup 100, promoting the mental health message Act-Belong-Commit.
"Western Australians will have the opportunity to be involved in WA's premier mountain bike and trail event through biking, walking or volunteering.
"The Dwellingup 100 has a strong focus on volunteering, and consistent with the Act-Belong-Commit message, it provides an opportunity for people to connect, commit and have a sense of purpose by helping to make the event a success.
"As a previous participant in the Dwellingup 100, I encourage everyone to get involved. It's a great event with a terrific community feel."
For those that prefer to keep their feet on the ground, sister event the Mighty Jarrah Trail Run is held on the same day, offering three distances for trail runners of all ages and abilities.
Whilst the event offers some great endurance activities for those that want to push themselves, its true essence is its inclusive nature.
'The annual event, now in its twelfth year, is a highlight on the calendar for locals and visitors alike.
'This year's event is especially exciting, as competitors will not only be welcomed by Dwellingup's expanding trails offering, local hospitality and plethora of activities, but also the new Dwellingup Trails and Visitor Centre which will be officially opened to the public at the beginning of September. The pump track will also be primed and ready to help competitors warm-up pre-race,' said Shire of Murray President Cr. David Bolt.
See more details here: https://www.dwellingup100.com.au/