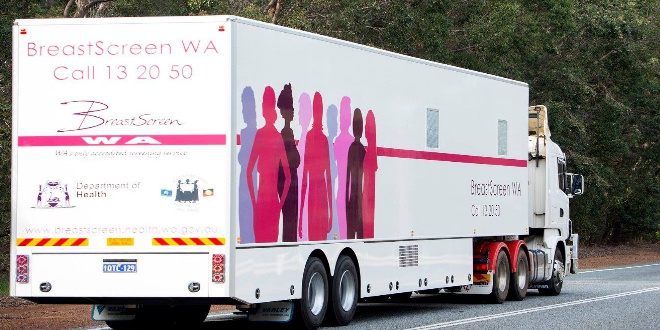 PIC: Supplied
Women in Waroona will be offered free mammograms over a three week period to help combat breast cancer.
BreastScreen WA will bring their mobile service to Waroona from April 13 to provide free screening mammography service to women aged 40 and over.
Breast cancer is the most common life threatening cancer for women and one in eight women in Australia will develop breast cancer in their lifetime.
In Waroona there are just under 600 women in the target age group for screening, that is 50 to 74-years-old.
In the last 24 months just 61 per cent of that target population attended screenings.
The aim of the program is to achieve an overall participation rate of 70 per cent of women aged 50-74 years.
BreastScreen WA's Medical Director Dr Elizabeth Wylie said screening mammography was the most effective method for early detection of breast cancer.
"Screening every two years is vitally important to increase the chance of a breast cancer being detected when it is too small to feel or be noticed. Finding a cancer at this early stage often means that the breast cancer is small and more treatable," she said.

"A free screening mammogram is one of the best things that women can do to look after their health. Breast screening saves lives and only takes 20 minutes."
With more than 75 per cent of breast cancers occurring in women over the age of 50, research has shown screening as the most effective for the age group.
BreastScreen WA has extended the age group to women aged 40 and over to attend a free breast screening session.
The mobile set up will be at the Health & Community Resource Centre, 10 Henning Street, from April 13 to May 5.
If people wish to attend a screening they can book online or phone 13 20 50 to make an appointment.