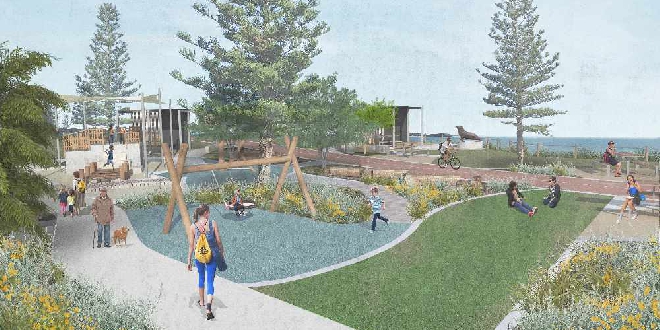 Detailed artist's impressions of the new Shoalwater Reserve Activity Node. PIC: City of Rockingham.
Works are underway on the Shoalwater Reserve Activity Node project.
The project is the first part of the City's Safety Bay Shoalwater Foreshore Master Plan, which outlines the vision for the foreshore areas of Safety Bay and Shoalwater over the next 20 to 30 years.
Construction on the Shoalwater Reserve Activity Node on Arcadia Drive includes the reconstruction of the footpath south of the existing car park, resurfacing of the existing car park, construction of a new beach access ramp, construction of a new play activity area and surrounding landscape works.
City of Rockingham Mayor Barry Sammels said the project would improve the attributes Shoalwater Reserve was known for, while simultaneously retaining its character.
"The focus of the Shoalwater Activity Node project is to enhance the foreshore experience for the local and wider community, while also aiming to attract more visitors to its unique attributes," Mayor Sammels said.
"This project is the first step in the Safety Bay Shoalwater Master Plan process and supports the aspirations developed in the City's Strategic Community Plan which include planning for future generations, growth in the community, as well as pursuing tourism and economic development."
During construction the car park and toilet block at Shoalwater Reserve will be closed.
The City apologises for any inconvenience this may cause.
Works are expected to continue until September 2021.