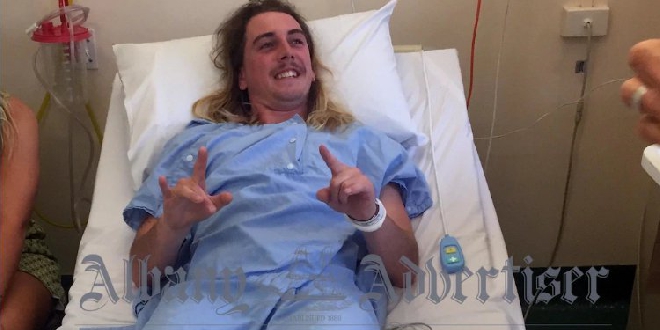 Noah Symmans said he "stomped on the shark" before making a mad dash to nearby rocks. PIC: Albany Advertiser
A young body boarder is set to undergo surgery today after he was attacked by a shark off Dawesville.
Noah Symmans, 20, was body boarding at Pyramids Beach around 8.40am on Sunday when he was bitten on the calf by a shark.
The Albany man said he fought off the shark before swimming to nearby rocks.
"I was surfing with another mate at a known break in Mandurah and it was fairly eerie vibes, a couple salmon were about and it was overcast," he told the Albany Advertiser.
"Super sharky-vibes.
"We were mid conversation waiting in the line-up when I felt something grab my left leg and try and pull me under, so with my other leg I stomped the shark until it released me and we gunned it for the rocks."
Surf lifesavers and paramedics treated Mr Symmans at the scene before the rescue helicopter flew him to Royal Perth Hospital.
The 20-year-old is understood to have suffered four puncture wounds to his lower calf and foot.
It is not known what species of shark attacked him.
Pyramids Beach remains closed and Fisheries officers are continuing their patrols.