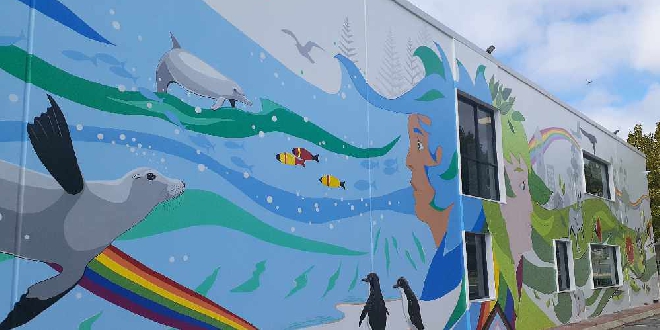 The Rockingham Youth Centre on MacKinnon Street will be hosting a celebratory launch event on Saturday 20 March 2021. Picture: City of Rockingham.
Young people aged 12 – 24 are encouraged to come and celebrate the official launch of the new Rockingham Youth Centre this weekend.
A first of its kind in the City of Rockingham, the Youth Centre is located on MacKinnon Street in Rockingham and has been built to provide young people with a place where they can connect and learn new skills in a safe and welcoming environment.
From 2pm – 6pm on Saturday March 20, the City will be hosting a launch event featuring live music, free food and bubble tea, laser tag, a DJ set and a silent disco.
There will also be workshops where young people can try something new including gardening, mandala art and bike repair.
City of Rockingham Mayor Barry Sammels encouraged young people to come and celebrate the launch of the City's latest community infrastructure project.
"Through the City's Strategy for Children and Young People 2018 – 2023 it was identified that the construction of a dedicated youth centre in the heart of the City could provide young people with a wealth of new opportunities," Mayor Sammels said.
"Whether it's enhancing leadership skills, boosting job readiness, exploring entrepreneurial pursuits, or receiving emotional and health related support, the new Rockingham Youth Centre has been built to cater for a wide variety of needs young people may have.
"The City worked closely with its Youth Reference Group and local schools on this project. We are thrilled to be launching the new Rockingham Youth Centre and we want as many young people as possible in the community to celebrate this milestone with us."
Those interested in attending the event will need to visit rockingham.wa.gov.au/youth for tickets as they will be limited and required for entry.
The first 100 ticket holders will then go into a draw for the chance to win a prize pack.
Following the launch, the Youth Centre will be open weekdays from 10am – 5.30pm.
Young people will be able to access specialised programs and support as well as come in to meet new people and hang out.