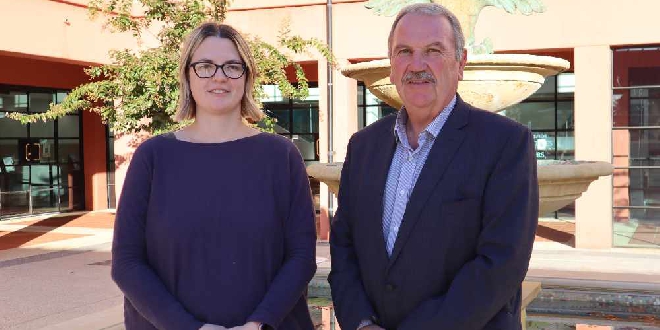 Local resident and past TSS recipient Anna Abbott and City of Rockingham Mayor Barry Sammels. PIC: City of Rockingham.
Applications for the next round of the City of Rockingham's Tertiary Scholarship Scheme (TSS) are now open.
The TSS assists Rockingham students between the ages of 17 – 40 to complete tertiary education.
The scheme supports residents who have an offer from a university or are enrolled to complete an undergraduate degree or TAFE/VET diploma for the first time.
Applications for the next round of the TSS are open for students who will be studying in semester two, 2021.
It is designed to support students' living expenses such as transport and accommodation costs, rather than funding course fees directly.
City of Rockingham Mayor Barry Sammels said the TSS was a key action in the City's Strategy for Children and Young People 2018 – 2023.
"In 2020 the City awarded scholarships to 19 local residents, with the recipients receiving a combined total of $110,500 across the life of their scholarship," Mayor Sammels said.
"The scheme helps address some of the barriers that prevent people from gaining tertiary qualifications, which are primarily cost of living expenses."
Local resident Anna Abbott, who has previously benefited from the scheme to complete a nursing degree in 2020, said the support provided from the TSS was an "amazing opportunity."
"I applied as I was a mature age student and our family was going from two incomes to one while I studied," Ms Abbott said.
"We were already struggling financially during the transition period while I waited for support payments to commence and as a City of Rockingham resident this scholarship sounded like great support. The grant took a lot of stress off me and my family financially."
Fellow TSS recipient Renee McCarthy, who also entered studies as a mature aged student, said the scheme had relieved the pressure of costs associated with textbooks, a laptop and professional placements.
Judith Paredes-Sanchez also received funding support through the TSS and encouraged eligible Rockingham students to apply.
"The immense help that it gives to your academic life is amazing. This scholarship gave me the opportunity to put university and my studies as my first priority, without stressing to work a certain amount of hours a week or having too many work commitments on my plate."
Applications in the next round of the TSS close at 4.30pm on Friday July 9, 2021.
For more information visit rockingham.wa.gov.au/tss or contact the City on 9528 0333 or via email customer@rockingham.wa.gov.au