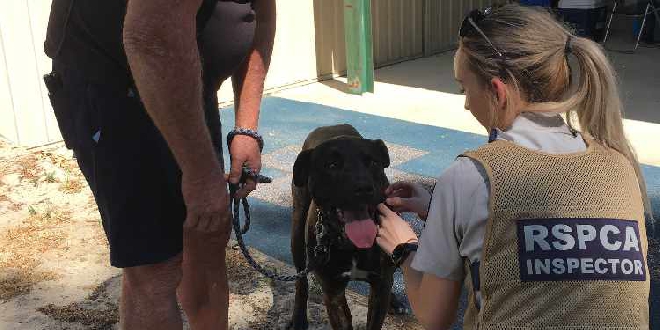 Armadale Community Action Day. PIC: RSPCA WA/Facebook
Free health checks, pet food and specialist advice will be on offer to Mandurah dog owners this week at a community action day.
Hosted by the RSPCA and sponsored by the City of Mandurah, the action day aims to address the high number of animal cruelty calls in the region.
In 2017, Mandurah ranked seventh on the RSPCA's list of cruelty hotspots by local government area with 294 reports.
In 2018, the RSPCA received 285 complaints.
The community action day will offer members of the community the opportunity to talk to vets and vet nurse staff from South Metro TAFE about any concerns they might have for their pets.
People are welcome to bring their dogs along for free health checks (dogs must be socialised, vaccinated and on a leash at all times).
Due to welfare concerns, cats are not able to attend.
Dog and cat food, and Advocate flea, tick and worm treatments will be available free of charge, and the team will also be offering free micro-chipping if needed (excluding litters and breeders).
RSPCA WA Inspectors, City of Mandurah Rangers, and an RSPCA WA Dog Trainer will be available to answer questions on the day.
"Mandurah regularly records a high volume of cruelty complaints, and we know that financial stress can be a contributing factor," RSPCA WA CEO Iain Torrance said.
"Our Community Action Days aim to ease the burden for pet owners by providing practical support and guidance in responsible pet ownership.
"I encourage anyone who is struggling to afford the basics, or whose pet hasn't been to the vet in a while, to come along.
"There's no judgement. RSPCA WA and our partner organisations are just here to help owners to help their animals."
DATE: 23 May, 2019
TIME: From 12:30pm -3.00pm
PLACE: Rushton Park North
Dower St (near Cooper St car park)
Mandurah