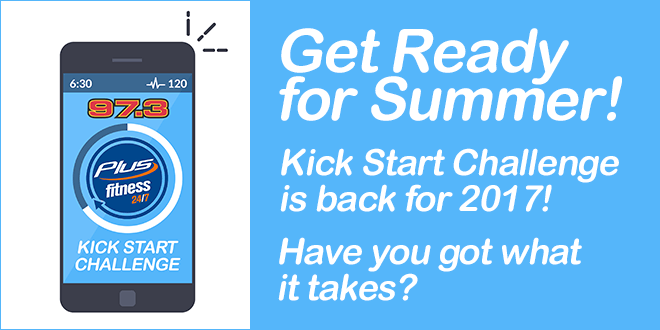 Get ready for summer!
97.3 Coast FM and Plus Fitness are making over Mandurah with our Kick Start Challenge! 16 lucky contestants will be selected to battle it out over 8 weeks with training, nutrition and access to health professionals. The contestant that loses the most body weight percentage will score CASH and prizes!


These 16 contestants are about to embark on life changing 8 week health journey
Halls Head Team
Taya Ashwell
Leah Murphy
Jill Emms
Meagan Miller
Daniel Ali
Anthony Gollan
Tracie Purver
Craig Jackson
Lakelands Team
Chris Karanikich
Paul Millington
Mary-Ann Toner
Steve Johnson
Matthew Howell
Natasha Shaddick
Rebecca Dearden
Daniella Aust
Thanks to Plus Fitness Halls Head & Lakelands and 97.3 Coast FM!
Entries: Monday 11th to Thursday the 28th of September, 2017.
Contestants Announced: Monday October 2nd, 2017.
Promotion/Training begins: Monday October 9th, 2017.
Finale OB: Summer Launch Saturday 2nd December, 2017.
Competition terms & conditions
Entries have now closed.
Read the contestant agreement that you'll need to sign if you're chosen.