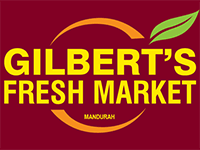 Phone Number: 9581 7612
Address: Corner Rouse Road & Mandurah Road, Greenfields, 6210
Website: https://www.gilbertsfresh.com.au/
At Gilbert's freshness is everything.
With a range of fresh, new take home meals, desserts and meats, prepared daily in-store by our butchers and chef. We've a large Organic, Gluten Free and Paleo Range, complementing the freshest local produce, sourced daily.
We have trucks collecting produce daily from WA's premier growers, plus we have a team of buyers in the markets sourcing the very best produce for our customers. All our meat and poultry is 100% Australian grown. We aim to provide the best quality meats for our customers. We also have a range of free range, grass-fed meat and poultry sourced locally.
We offer an extensive range of cold meats including superb Italian prosciutto, pancetta, free range hams, plus our own baked in store ham on the bone, roast beef and roast pork sliced to your liking.
We offer a wonderful selection of dairy products, fresh juices, cold meats & other ready to eat products at all of our stores. We also have a variety of specialty local West Australian and National products.
Flowers for you or for a loved one – we've got you covered at all of our stores. We buy our flowers locally to get the freshest and most beautiful bunches. We have something for everyone.
We have a variety of coconut, cacao and chocolate products, chia and quinoa seeds, dried beans, dried fruits and vegetables plus many more essential items and pantry staples.
Our huge range of salads are made in store daily using fresh, premium products from our stores. They include a variety of salads and pasta and other seasonal salads.