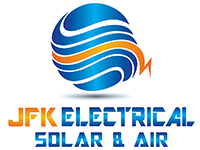 Phone Number: 9500 5850
Address: 37 Panton Road, Greenfields, 6210
Website: https://www.jfkelectrical.com.au/
Air Conditioning
Ultimate home comfort -split system Reverse Cycle Air Conditioning. Comfort and control in every room. Heating and Cooling all year round. Quiet Operation. Professional installation.
Home Automation
Local, remote and voice activated control, Dim the lights, Play music, Cool the home or turn up the heat. Control your security systems and lock the doors. Your options are limitless.
Solar Systems
With Energy bills rising there has never been a better time for solar. Perth has excellent year-round Solar conditions and incentives are still available.
Security
Protect your family, safeguard your property. Integrated or Stand alone Security Systems, Full range of cameras and alarms .Wireless or wired. JFK Electrical are your Security Installations specialists.
Maintenance
Essential protective maintenance and servicing of your residential commercial and industrial, electrical systems. Mandatory, appliance testing RCD and safety system checks. Real estate property maintenance, presale compliance upgrades and general electrical repairs.