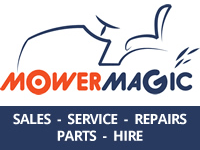 Phone Number: 9582 0255
Address: 2/16 Rouse Road, Greenfields, 6210
Website: http://www.mowermagic.com.au/
Mower Magic stocks and supplies a comprehensive range of Top Brand Garden Power Products and provides full after sales service, repair facilities and spare parts supply for all brands of equipment.
We pride ourselves at being a major supplier of quality brand names such as:
Alroh
Atom
Briggs & Stratton
Carlton
Cox
Deutscher
Dolmar
Husqvarna
Kawasaki
Makita
Masport
McCulloch
MEY Products
MTD
Robin-Subaru
Rover
Ryobi
Silvan-Selecta
Victa
More brands available
Mower Magic stands firmly behind all warranties provided by manufacturers and carries out any warranty repair requirements in a fast, efficient manner. In addition, Mower Magic can carry out service and repairs for almost all brands and types of Garden or Outdoor Powered Equipment.
In short, Mower Magic believes in providing Quality Products and Service at great Value prices.