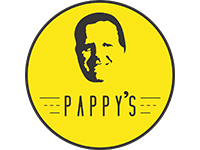 Phone Number: 1800-PAPPYS
Address: 9 Mandurah Terrace, Mandurah, 6210
Website: https://pappys.com.au/
Pappy's is a family established, owned and run business, with 5 stores located within the Peel region. We specialise in gourmet pizzas & hearty burgers, but we offer so much more. The brand established in 2018, and August 2020 Pappy's landed on the Mandurah Foreshore, with their Pappy's Pizza & Burgers outlet. We are so excited to bring our way of food and warm welcoming customer service to the people of Mandurah.
We offer free delivery to our customers within a 15km radius of Mandurah central.
We are proud to launch our new website and online ordering service in November 2020, providing even more convenience to get a Pappy's feed quicker and easier.
Join our band of Facebook followers and be the first to know of our special deals, pizza and burger of the week promotions, discounts and competitions.
We source only the best ingredients to create our delicious range of products. Call 1800PAPPYS today and experience OUR food made YOUR way.