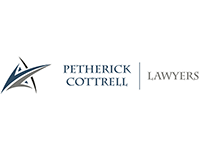 Phone Number: 9535 4604
Address: 62B Pinjarra Road, Mandurah, 6210
Website: http://www.petherickcottrell.com.au/
About Our Law Firm – Mandurah, WA
COMMITMENT, EXPERIENCE, EXPERTISE, RESULTS
Petherick Cottrell is a Mandurah based law firm of experienced, proficient and friendly lawyers committed to servicing your individual and business legal needs. The firm prides itself in using clear and simple terms to advise and address legal issues. This approach is aimed at reducing complexity and providing the most beneficial and cost effective solution to clients.
The Petherick Cottrell team believes that the best advertisement is a highly satisfied client. We encourage you to consult with those that have used our Mandurah based services or consider our client testimonials. We pride ourselves with developing long term professional relationships with our clients.
As part of our service delivery and client focussed approach we can offer: after hour consultations to make us accessible and convenient, the highest level of confidentiality and professionalism to handle all nature of matters and friendly efficient service to make managing your matters just that little bit easier.
Petherick Cottrell has gained a reputation for professionalism, success, strong advocacy and negotiation skills. As a client of Petherick Cottrell, you will be benefited by our wealth of knowledge and professional experience as we protect and actively advance your interests in all areas of law, including:
Commercial & Civil Litigation
Criminal Law
Employment Law
Family Law
Wills & Estate Planning
Property & Business Law
Law Firm Costs
Petherick Cottrell Legal operates an efficient legal practice and keeps overheads to a minimum. This is reflected in our costs structure with clients. The firm actively seeks to avoid unpleasant surprises with costs to clients. We achieve this in a number of ways:
We are open and transparent with our fees and litigation costs from the outset;
We provide written estimates of costs, and where possible fixed-price fees;
The firm offers flexible fee options and an initial consultation at $100.00.