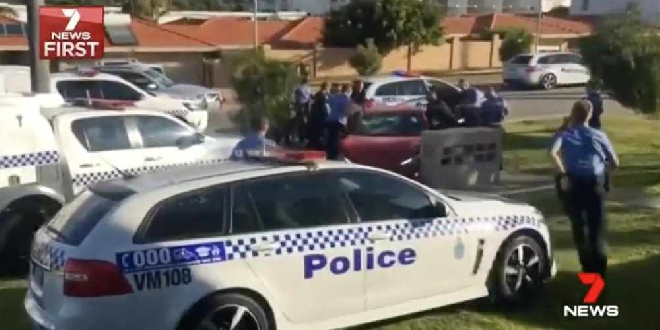 PIC: Seven News
A man who allegedly stole a car from Waikiki has been dragged out of the vehicle by police.
The 29-year-old man went to a house on Meridian Mews about 2.20pm on Saturday and allegedly assaulted the owner of the red Toyota Coupe along with neighbours before driving off in the car.
The stolen vehicle was sighted by police near Fremantle about 3pm.
The police helicopter followed the Toyota through multiple suburbs for over an hour before officers used a stinger to slow the car on Sackville Terrace in Scarborough.
A short time later the car was stopped on Joyce Road in Scarborough.
Police were forced to drag the driver out of the vehicle.
He was taken into custody along with a 28-year-old woman who was arrested nearby.
They were both conveyed to hospital with non life-threatening injuries.
A number of police and civilian vehicles were damaged during the incident but there were no serious injuries.
Police would like to hear from anyone whose vehicles were struck by the stolen car during the incident, or any person who has dash cam footage.
Anyone with information should contact police on 131 444.