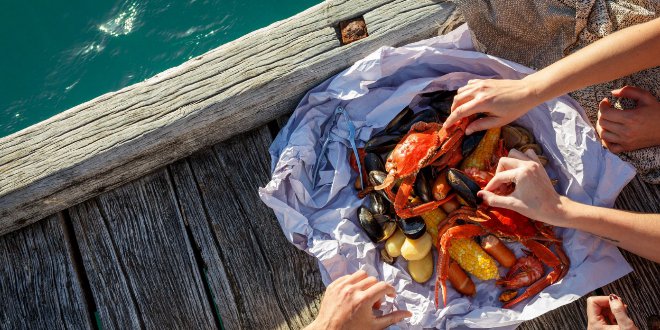 PIC: Experience Perth
With less than 24 hours till the kick off of the annual Mandurah Crab Fest, foodies are pulling out their comfiest clothing and gathering up their cash to indulge in some of the best seafood from the Peel region.
With a special 20th anniversary edition of the state's largest free regional event set to kick off this weekend, we're expecting over 100,000 people to descend on the Mandurah foreshore and take in the aromas, sights and food on offer.
Crab fest has a long history of offering unique food experiences with the 2018 weekend celebration expected to boast a a variety of gourmet and continental food stalls displaying a huge choice of taste temptations including a selection of the region's renowned produce.
Last year saw the launch of the first festival cook book, The Fish Trap, featuring local food the focus.
A second edition will be on sale this year, with part proceeds donated to the Mandurah Foodbank, with artwork featured in the book from local artist Emma Blyth.
Related: Headliners announced for Crab Fest
Related: Plan your journey to Crab Fest
This year's Fish Trap cookbook will feature recipes from local restaurants including Flic's Kitchen and Warung Ade, as well as celebrity chef recipes and a step-by-step guide for cooking Blue Manna crabs
Mayor Rhys Williams said the Peel region had so much to offer.
"The Mandurah Crab Fest provides a great opportunity for locals and visitors to experience delicious seafood and fresh produce from across our region," he said.
"Crab Fest really has something for everyone, so come along and join in the fun of Western Australia's biggest free regional event."
In addition to the food stalls and trucks there will also be a dedicated fresh seafood area, The Fish Pot, with a crab boil, sales and seafood demonstrations, and the cooking stage featuring television and radio personalities and My Kitchen Rules contestants.
A special fireworks display will see the Manjar Bay explode with colourful lights from 8.30pm on Saturday night, with over 100 hours of free entertainment including live music and water displays.