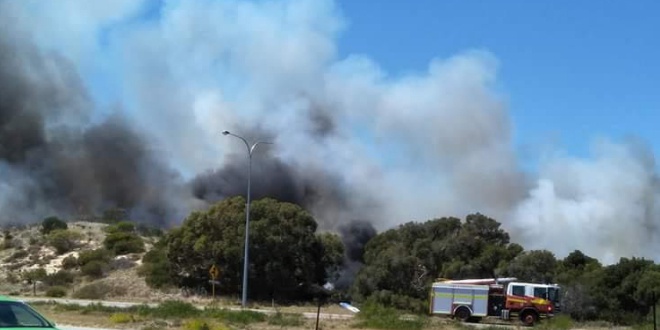 PIC: Facebook / Rockingham Community Crime Watch
A bushfire advice has been issued for people in Port Kennedy in the City of Rockingham and roads have been closed.
The warning has been issued to people bounded by Port Kennedy Drive to the south, Ennis Avenue to the east, La Estrada Way and Merida Loop to the north and Warnbro Sound Avenue to the west, in the eastern parts of Port Kennedy in the City of Rockingham.
People have been told to avoid the area and Port Kennedy Drive between Ennis Avenue and Warnbro Sound Avenue has been closed.
If you are driving in the area emergency services said to slow down and used caution as there is smoke around.
There is currently no threat to lives or homes but lots of smoke in the area.
The fire started near the intersection of Port Kennedy Drive and Bakewell Drive.
Flying drones near a bushfire will force firefighting aircraft to be grounded or redirected for safety reasons.
Around 24 career and volunteer firefighters are on the scene actively fighting the fire.
Aerial support has also been sent to assist ground crews.
The fire was reported at 11.10am.