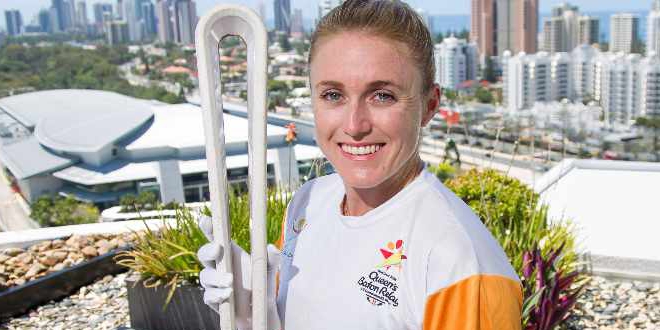 GC2018 Ambassador Sally Pearson OAM with the 2018 Queen's Baton. PIC: Supplied
The two feature Baton Bearers for the City of Rockingham leg of the Gold Coast 2018 Commonwealth Games Queen's Baton relay have been announced.
The first is Robert Bates from Secret Harbour – winner of the City of Rockingham's Sports Star of the Year in 2014.
His contribution to his local surf lifesaving club, Secret Harbour SLSC, includes more than 500 patrolling hours, raising over $150,000 in grants sponsorship, and mentoring youth and mature members.
He was awarded DHL Australian Surf Lifesaver in 2014 for his contribution to surf lifesaving, and is a medallist at club, state and national level.
Outside of surf lifesaving, Rob has received two Prime Minister awards for working with people with disabilities.
He is an inspirational member of the community.
The second feature Baton Bearer is John Ree, a retired firefighter from Falcon in the City of Mandurah.
He has been an active member of St John Ambulance for nearly 60 years, and holds the title of Knight of the Order of St John.
He has donated more than 15,000 volunteer hours to community service. John is also involved in veteran's hockey and has represented Western Australia on many occasions interstate and overseas.
Rob and John are just two of the local legends chosen to carry the Queen's Baton as it makes its way through the City of Rockingham on 23 February 2018, on its journey from Buckingham Palace to the Gold Coast for the 2018 Commonwealth Games Opening Ceremony on 4 April 2018.
A total of 20 Baton Bearers will be participating in the City of Rockingham leg.
Here's the full list of names released today: