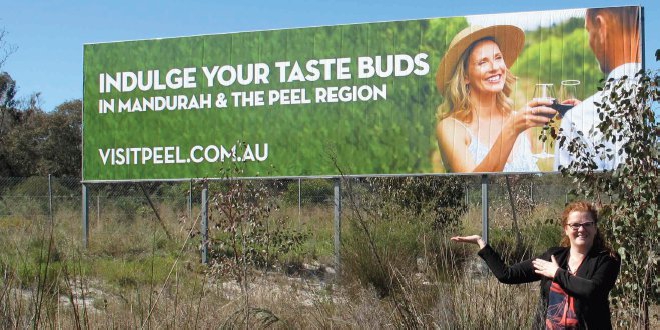 MAPTO Marketing Manager Zoe Morgan with one of the newly installed highway billboards. PIC: Supplied
Mandurah has overtaken the City of Perth as the Number 1 destination for day trips within Western Australia.
The latest Tourism Research Australia figures have been released and show the local government area of City of Mandurah ranking at Number One with 1,975,000 day trip visitors, leading City of Perth at 1,906,000 and City of Swan at 995,000.
Mandurah and Peel Tourism Organisation (MAPTO) CEO Karen Priest said the ranking is an excellent result for the work undertaken by all Peel tourism stakeholders.
"Our brand campaign, Anytime Adventures, is designed to raise awareness that visitors don't need to plan in advance; they can come here anytime and enjoy a holiday every weekend.
"They can spend their money on an experience instead of spending it all on fuel!"
The "drive less and holiday more" message is being reinforced with new billboards currently being installed on the Kwinana Freeway.
"The aim of the six billboards is to showcase activities people may not be aware of and encourage them to consider the destination for their next weekend getaway, day trip or stopover rather than bypassing Mandurah & the Peel Region."